Schließen Sie nur noch Sicherheitslücken,
die wirklich relevant sind
XM Cyber liefert Ihnen Kontext, damit Sie immer genau wissen, welche Schwachstellen Sie beheben müssen und welche ignoriert werden können. Decken Sie automatisch alle Angriffspfade in Ihrer Umgebung auf und sehen Sie auf einen Blick die Sicherheitslücken, Fehlkonfigurationen und Nutzeridentitäten, die in Kombination das größte Risiko darstellen. So verschwenden Sie keine Zeit mehr damit, Schwachstellen zu beseitigen, von denen gar keine Gefahr für Ihre Daten und Systeme ausgeht. Mit den Angriffsdiagrammen von XM Cyber können Sie gezielt an Choke Points ansetzen – den Punkten im Angriffspfad, an denen Sie Hackern am effizientesten den Weg abschneiden.
Die Antwort auf kritische Fragen
Verschaffen Sie sich einen vollständigen Überblick über die größten Cyberrisiken und treffen Sie präzise und wirkungsvolle Vorbeugemaßnahmen.
Schwachstellen nach Risiko einstufen
Mit unserer ausgeklügelten Angriffsdiagramm-Analyse werden Schwachstellen, die für einen sicheren Geschäftsbetrieb behoben werden müssen, sofort ersichtlich.
Fortlaufende Risikominderung
Dynamische Umgebungen verdienen eine Rund-um-die-Uhr-Überwachung. Nur so wissen Sie jederzeit, welche Sicherheitslücken Sie schließen müssen – und welche Schritte dafür zu unternehmen sind.
Fortlaufendes Exposure Management
in On-Prem-, Cloud- und Hybrid-Netzwerken
Vulnerability Management
Active Directory and
Credential Exposures
Security Controls Monitoring
Cloud Security
Exposure Insights
What's at risk, trends,
compliance & board reporting
Attack Path Analysis
Attack graph view from any
breach point to critical assets
Prioritized Remediation
Laser-focused risk removal
Erkennen
Sie einen Angriff,
bevor er
stattfindet
Find out why some of the world's largest , most complex organizations choose XM Cyber to help eradicate risk.
Discover how Schwarz Group, the largest retailer in Europe, uses XM Cyber to see issues before they happen and then prioritize accordingly. Learn more in this short video!

Find out why some of the world's largest , most complex organizations choose XM Cyber to help eradicate risk.
Understanding different attack types and how they move around in an environment, that's really where XM Cyber plays a big part for us.
Anne Petruff
Vice President of Enterprise Services
Find out why some of the world's largest , most complex organizations choose XM Cyber to help eradicate risk.
Because it offers continuous, automated protection, security issues that would normally take dozens of manual steps to discover are surfaced almost instantaneously.
We have historically been compelled to focus pen tests on non-critical areas of infrastructure, as the risk of collateral damage-related downtime was too great. Thanks to XM Cyber's automated testing, this problem was solved, and protection was extended across the entire infrastructure.
Jens Meier
CEO, Hamburg Port Authority

Kundenmeinungen und -stimmen
"We are having more meaningful conversations with IT operations because we are able to lay out what vulnerabilities that we should be addressing, and we get their buy-in. We may show them that we don't have compensating controls in certain areas, so new priorities are needed."
Director of information security, governance, and risk compliance
Insurance industry
"I measure risk reduction by how long I can sleep. I sleep better now."
Head of IT infrastructure
Retail industry
"A huge benefit for me right now is that there's no competition between IT security and IT operations anymore. IT operations uses XM Cyber proactive now. The people responsible for servers, for example, have set up some of their own scenarios and solve problems better than in the past. People see that their actions make their responsible area more secure. Things are much better now."
CISO
Manufacturing industry
"Every company in the world has too many vulnerabilities to manage, and you get this alert fatigue, so you don't even know where to start. In some areas, we have 200,000 patches in the queue. But with XM Cyber, we see the most vulnerable points."
Head of IT infrastructure
Retail industry
"A pen tester is looking at certain aspects at a point in time that become stale about 30 days later, while XM Cyber is all-encompassing and continues to provide findings year-round."
Director of information security, governance, and compliance
Insurance industry
"Since scenarios are run constantly, we're able to go back and ensure that the remediation effort was accomplished successfully. It is not uncommon to catch patches that weren't done right."
Head of IT infrastructure
Retail industry
"Microsoft announced a large vulnerability that affected domain controllers and servers, we were able with XM Cyber's help to identify that vulnerability weeks before Microsoft announced that. We were able to patch our environment and get our environment squared up."
CISO
Non-Profit Organization
We were living in an imaginary feeling of security, but the reality of existing attack paths was shocking, and the findings were really impressive!
They have been as responsive now ... as they were when they were trying to make the sale... We're used to vendors being right there in the sales cycle and then you're kind of on your own until you call them. They are very good about proactively reaching out.
CISO
Insurance North America
"Seeing the attack path before the attackers can really use it makes me speechless."
CIO
Large European Retailer
"XM Cyber opened our eyes to real security issues we had that existed for years!"
IT Security Specialist
Large European Bank
"XM Cyber is really on the horizon of what the next hot technology is for our customers, for CISOs, and the challenge with ransomware type attacks, and not understanding their actual attack surface. My previous couple roles in security brushed up on this space, but they never really had technology that could address it. And that's what was so appealing about XM Cyber."
"This is my preferred toy."
"We use the product to show our operational team the reason for the remediations we need and what is the real impact on our security."
Network Security Specialist
Large European Bank
"This is why we like XM Cyber, even when you think you fixed an issue, XM will show you if the risk still exists."


Exposures und Risiken – Zahlen und Fakten
sicherheitsrelevante Exposures werden durchschnittlich jeden Monat entdeckt – und könnten von Angreifern ausgenutzt werden.

der Unternehmen haben Exposures in On-Prem-Netzwerken, die ein Risiko für kritische Ressourcen in der Cloud darstellen. Wird die Cloud erreicht, sind 92 % der kritischen Ressourcen vulnerabel.
der Maßnahmen gegen Exposures laufen ins Leere - da kritische Ressourcen über sie ohnehin nicht erreichbar sind.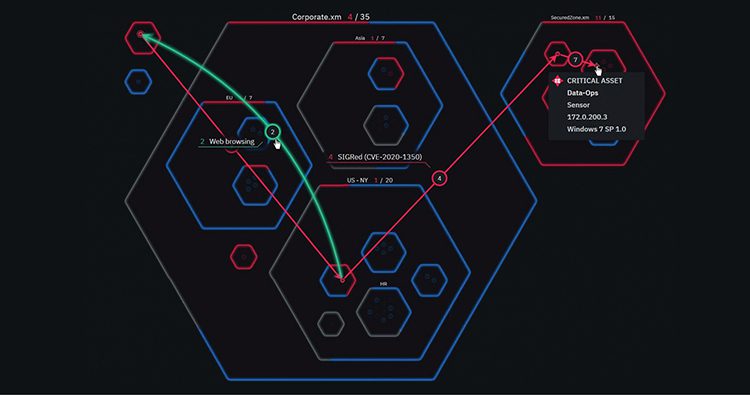 Finden und beheben Sie die Exposures, von denen ein wirkliches Risiko für kritische Ressourcen ausgeht.
Schnell und extrem effizient.